Tanabata (The Star Festival) – July 7th
This year it was wet on the 7th and once again our hearts go out for Orihime and Hikoboshi. This traditional Japanese story is beautiful and uplifting however every year is nearly always destined for a sad ending.
Every year it is also sad just to put all of the Tanzaku in the rubbish bag. Traditionally, after Tanabata festival was finished they were thrown still attached to the sasa into a nearby river. Eventually, the wishes would flow into the ocean and beyond into the Milky Way. Concerns over water way pollution forced a change to a more direct route through burning. However this too has environmental issues so we have decided to use composting this year! The idea of our messages being transported by nature from the soil through the roots of flowers and trees and via photosynthesis into the atmosphere then to the heavens is not so romantic. However, I believe Orihime and Hikoboshi would approve!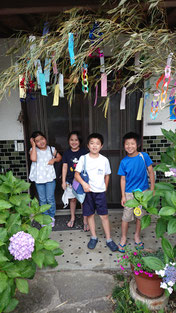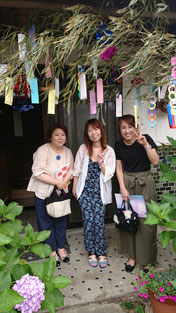 A pile of hopes and wishes ↓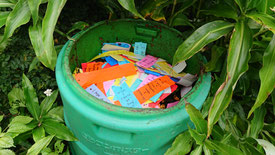 ….the start of their long
          journey to heaven.